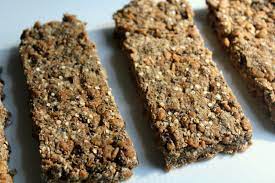 Fancy a more natural alternative to the full of sugar highly processed protein bars sold in stores?
Well why not give this ago….
Quinoa is high protein content super food that is also gluten free. You can buy quinoa in all good supermarkets and it looks like tiny ball bearings that can be cooked similar to rice.
Quinoa and oats are very low on the GI scale so one of these bars could be an excellent choice for a healthy mid morning or afternoon snack and also ensuring you get extra protein into your body to help support your fitness and fat loss goals.
Quinoa Protein Bars
The amounts below will make around 12-13 bars
Ingredients:
2 cups rolled oats
1/2 cup quinoa
1/4 cup ground flax seed
1 teaspoon baking soda
1/2 teaspoon sea salt
1/2 cup  almonds
1/2 cup sunflower seeds
1/2 cup coconut, shredded
1/2 cup buckwheat flour
1/4 cup unsweetened applesauce
2 teaspoons vanilla
1 cup water
First of all cook the quinoa. Add oats, flax, baking soda, flour, almonds, seeds, coconut and sea salt in a large bowl.
Once the quinoa is cooked, add applesauce, vanilla and water. Add all ingredients and mix together.
Put the mixture into 9 pan and mould with your hands. Bake in the oven for 20 minutes at 180 c/350ºF. Cool divide into pieces.
And there you have it. A great alternative to protein bars.